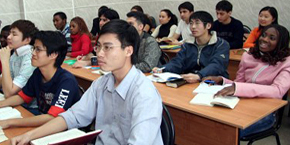 Master's program Resources Conservation and Environmental Safety in Civil Engineering
08.04.01 Civil Engineering
Master's program Resources Conservation and Environmental Safety in Civil Engineering focuses on developing graduates' skills of energy efficient buildings design and construction; improving their knowledge of environmental safety principles in civil engineering. Having completed the program, students are prepared to solve problems in such professionally-oriented areas as innovative activity, survey work and preliminary estimation.
The program duration is two years.
Graduates' professional work facilities are industrial and civil energy-efficient buildings; environmental constructions; modern building materials, products and structures.
Graduates know ways to certify construction projects in compliance with progressive international standards as well as Russian "green" ones. They can apply principles of structural engineering using "passive" technologies of resources conservation, choose building materials that meet all modern standards, including those which are complied with in the sphere of environmental safety and resources conservation. Graduates know main causes of industrial accidents in construction complexes and systems and their origin. They can use modern methods for diagnostics and monitoring of building constructions including experimental methods for determining the stress-strain state of structures; assess durability and safety of building structures, bases and foundations.
Core courses of Master's program are:
Structural design and analysis of buildings;
Efficiency of innovations and innovative technologies in civil engineering;
Resources conservation and environmental safety in structural engineering;
Technogenic accidents in civil engineering;
Research methods and forecasting of main performance characteristics of building materials;
Design and production of environmentally friendly building materials;
Global experience of complying with environmental standards in civil engineering;
Engineering and ecological surveys and environmental monitoring in civil engineering;
Methods for the analysis of construction impact on the environment.