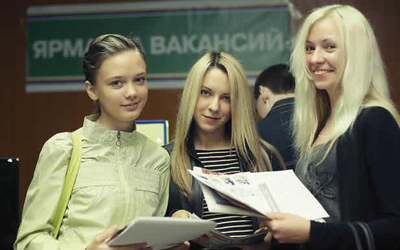 Tambov State Technical University strives to provide students with an enriching work environment that encourages creativity, research, innovation, and equal opportunity for learning, development and professional growth.
TSTU cooperates with different companies and industrial enterprises in Tambov and neighboring regions. Job fairs take place twice a year at the University. During such events students meet representatives of local companies and have the opportunity to find their way in career development.
Center for Employment and Career Development offers students and graduates a wide choice of career opportunities and information about graduate vacancies in regional companies and organizations. Students' practices and internships are organized. Students who have part-time jobs during the academic year develop strong skills to internships and professional positions.
Center for Employment and Career Development assists current students and alumni in the following areas:

Major and career investigation
Establishing and implementing a career development plan
Professional skills building
Internship and job search
Resume development
To find out more about the Center for Employment and Career Development, visit http://rcst.ucoz.ru/