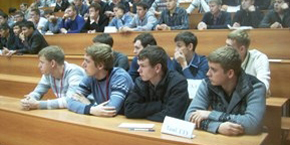 Technological Institute
Address: 112, Michurinskaya st.
Phones: +7 (4752) 63-03-88, 63-03-97
E-mail: mmf@nnn.tstu.ru

Director - Candidate of Tech.Sc., Assistant Professor Dmitry L. Polushkin

Departments:
Mechanics and Engineering Graphics
Nanotechnology Engineering
Computer Integrated Systems in Mechanical Engineering
Materials and Technologies
Nature Management and Environment Protection
Technology and Methods of Nanoproducts Manufacturing
Technology and Equipment for Food and Chemical Production
Technological Processes, Devices and Technosphere Safety
Chemistry and Chemical Technologies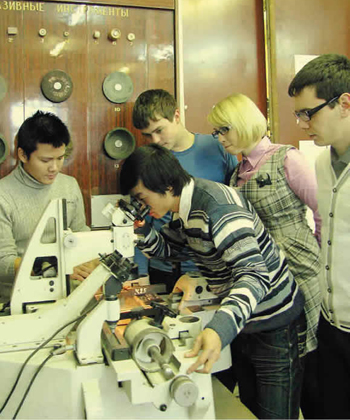 The oldest TSTU Faculty "Mechanical Engineering" was reorganized into Technological Institute in 1997. Nowadays it is one of the largest structural units of the University.
Teaching staff includes 200 people, among them 26 Professors, 80 Doctors and Candidates of Sciences.

Technological institute is the largest center in Tambov region for training of specialists in mechanical and chemical engineering, material science, nature management, food production and modern technologies.

It actively cooperates with leading regional industrial enterprises: JSC "Komsomolets", JSC "Pigment", JSC "TAMAK", JSC "Confectionery company "TAKF" and others.

The graduates acquire practical skills essential to work with high tech equipment, as well as a broad theoretical knowledge.

The Institute infrastructure includes research and educational centers "Nanotechnology and New Materials", "Solid Phase Technologies", "New Chemical Technologies", "Oil Chemistry", "Ecotechnologies", etc. providing effective transfer of advanced technologies and competitive products manufacturing; interdisciplinary research laboratory "Computer Modeling, Optimization and Design of Automated Processes, Machinery and Manufacturing systems in Chemical, Food and Biotechnology", laboratory of remote access "Design and Operation of Chemical and Technological Systems".

The staff develops and introduces courses taught in English, participates in international conferences, exhibitions, joint projects and exchange programs. The Institute departments support long-term cooperation with research and academic institutions in Russia and abroad as well as with regional businesses and industrial enterprises forming the triangle "Science-University-Industry".
BACHELOR PROGRAMS

(Degree: Bachelor, Full course: 4 years)
Processing Machinery and Equipment
Design and Technological Maintenance of Engineering Productions
Nanoengineering
Chemical Technology
Biotechnology
Energy and Resource Saving Processes in Chemical, Petrochemical Technology and Biotechnology
Production of Vegetable Foodstuff
Technology for Printing and Packaging Production
Technosphere Safety
Mechanical Engineering
Material Science and Materials Technology
Ecology and Nature Management
Oil and Gas Engineering


MASTER PROGRAMS

(Degree: Master, Full course: 4+2 years)
Design of Engineering Production Facilities
Innovations, Machinery and Equipment Market
Machinery and Equipment of Industrial Ecology
Information Support for Mechanical Engineering
Chemistry and Technology of Core Organic and Petrochemical Synthesis Products
Energy and Resource Saving Processing and Devices
Industrial Biotechnology and Bioengineering
Innovation Technologies and Equipment of Food Production
Industrial Safety
Industrial Ecology and Rational Use of Natural Resources
Materials Science and Materials Technology in Mechanical Engineering and Tool Engineering
System Analysis of Design Solutions
Innovation Technologies, Equipment and Materials
Nanoengineering in Mechanical Engineering
Technology for Polymer Packaging Production and Recycling
Engineering Technology
Oil and Gas Engineering