(1884 - 1964) - "The Slav Woman Farewell" march creator
---
Any melody can't be compared with that one seeing off millions of Slav soldgers who died a hero's death. It lives and trubles people arousing thier best patriotic feelings till nowadays.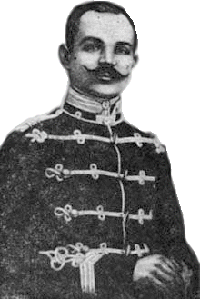 Every time when it is being heard the everlasting march "Slav Woman
Farewell", we think of the name of Vasily Ivanovich Agapkin. This march is well-known not only in Bulgaria, Poland, Slovakia, but in France, the USA, Japan and Africa as well.
Vasily Ivanovich Agapkin
was born in February 3, 1884 in the village of Mikhailovskoye of Ryazan province in the farm labourer family. When he was seven years old he became an orphan and was obliged to beg together with his brothers and sisters. A chance meeting with a military orchestra conductor changed all his life. The ten-year-old boy was enlisted as a pupil in this orchestra. Soon he was recognized to be the best cornet-player of the regiment orchestra.
In December 1909 Agapkin moved to the province town of
Tambov, where he was later enroled in the reserve cavalry regiment as a staff-trumpeter. During two years he prepared for entering the Tambov musical school, which was well-known in Russia and where he was admitted to the wind-instrument class in 1911. The respected teacher Fiodor M. Kadichev had cultivated in his pupil a feeling for taste and form of large compositions and taught him the conductor's skill.
Just in Tambov in 1912,
when the first Balkan war began, Agapkin had composed his march "Slav Woman Farewell".
After the October revolution Vasily Agapkin volunteered to the
Red Army and organized a brass band in the first red hussar regiment. With this brass band the red hussars went hundreds of fire versts, defending Grodno, Baranovichi, Minsk and other Byelorussian towns from Germans and Byelopoles.
In summer 1922 Agapkin leaved Tambov for Moscow. The parting
benefit performance of his brass band took place in August 5, 1922. Moscow period of Vasily Agapkin's creative life is considered to be the most many-sided in his career of a musician and conductor. In 1924 his brass band attended the funeral of V.I.Lenin. In 1928 Agapkin organized the brass band, consisted of homeless children - most of them became later the professional musicians. In 1938 he took part in improving of the Kremlin chiming clock.
During the World War II Agapkin was a head of the brass bands of
the detached motoinfantry division named after Dzerzhinsky. In November 7, 1941 he had been charged to conduct the composite brass band during the army review on the Red Square in Moscow.
Agapkin died in October 29, 1964 and was buried on Vagankovskoye
cemetry in Moscow. He composed many splendid melodies, but the march "Slav Woman Farewell" is the best and most remarkable one among his compositions.
We invite your to hear MIDI file of this melody.
---