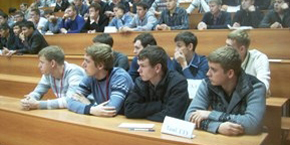 Institute of Economics and Quality of Life
Address: 106, Sovetskaya st.,
Phones: +7 (4752) 63-95-77
Fax: +7 (4752) 63-06-43
E-mail: ecodec@tstu.ru
Web: http://iekzh.tstu.ru (rus)

Director - Doc.Economic Sc., Ass. Professor Sergey P. Spiridonov

Departments:
Commerce and Business Informatics
Management
Economics
Economic Security and Quality
The Institute of Economics and Quality of Life was reorganized in 2013 from the Faculty of Economics. It provides training of qualified specialists in the field of economics, management and business informatics taking into account current requirements of the labour market at regional, national and international levels.
Students gain knowledge in a wide range of disciplines, have general economic practice in banks, commercial and financial institutions, enterprises of Tambov, Tambov region, other regions of Russia. Training programs include the application of modern educational technologies and innovative teaching methods.
A lot of external specialists from banks, insurance companies and consulting agencies are involved into the teaching process. Employers take an active part in the development of educational programs taking into consideration all modern economic development trends and practical needs of enterprises.
Educational, research and innovative potential of the Institute is represented by 4 chairs, research marketing center, interregional research laboratory "Up-to-Date Technologies in Education and Business", student section "Club of Professionals in Trade and Goods Expertise".
Developing the project of network cooperation the Institute of Economics and Quality of Life improves collaboration with leading Russian and international universities and companies. The staff develops and introduces study programs taught in English (Master Program "Financial Management").
BACHELOR PROGRAMS

(Degree: Bachelor, Full course: 4 years)
Economics
Management
Business Informatics
Service
Trade
Housing economy and communal infrastructure


GRADUATE PROGRAMS

(Qualification: Specialist, Full course: 5 years)
Economic Security


MASTER PROGRAMS

(Degree: Master, Full course: 4+2 years)
Banks and Banking Activities
Accounting, Analysis and Audit in Commercial Organizations
Marketing
Production Management
Financial Management
Information Technologies in Business
Commercial Activity
Finances, Money Circulation and Credit
Enterprise and Sectoral Markets Economics
Management of Housing and Communal Iinfrastructure